Texte
Colonne
Colonne
Any construction or development project requires the study of its suitability for the ground, the subsoil and the environment that surrounds it in order to ensure its sustainability. This is the subject of geotechnical engineering, in which Géotec has been, for nearly 50 years, a recognized specialist in France and also in Africa.
Géotec has chosen to offer its customers fully integrated services including:
In-situ investigations (core sampling, pressuremeter borehole drilling, static or dynamic penetrometer tests, as well as in-situ pressuremeter tests, SPTs, Lefranc, Lugeon tests, pumping tests, etc.).
Laboratory tests of soil mechanics and rock mechanics (identification, triaxial, oedometer, shear, LA, MDE, etc.).
The various geotechnical engineering surveys are carried out by expert geotechnical engineers, depending on the stage of the project, from the pre-project stage to the sizing and construction of geotechnical structures.
Colonne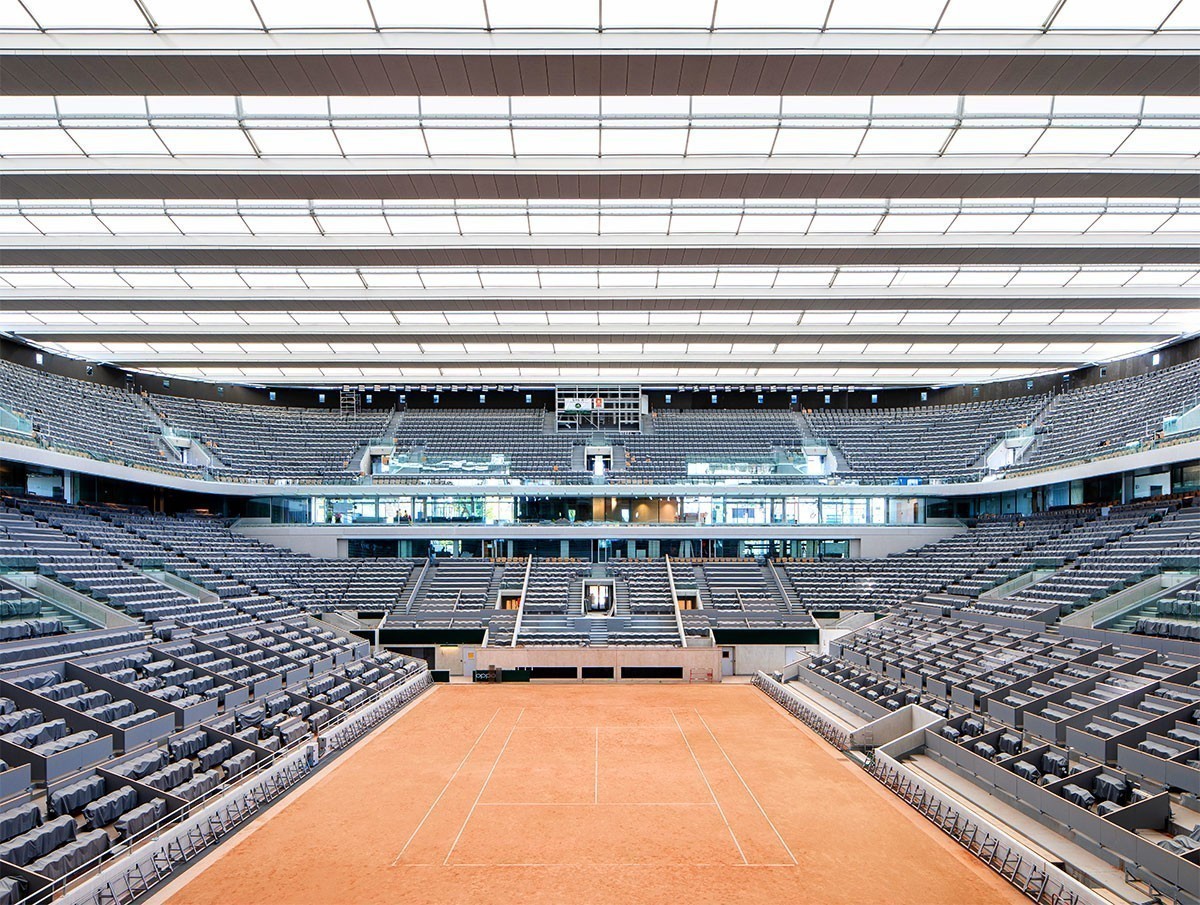 Colonne
Colonne
MISSIONS
Geotechnical engineering surveys
Since the 1990s, Géotec has participated in the development of the NFP 94-500 standard, defining the different geotechnical engineering surveys, the latest version of which dates from November 2013.
By following this standard, Géotec can support its customers throughout their projects:
From the beginning with the preliminary geotechnical study, mission G1 (preliminary studies, drawings,…).
Then, with the geotechnical design study, mission G2 (APD, AVP, PRO and DCE / ACT).
And finally, with the geotechnical studies of installation/construction, G3 missions (on contractors' side) and G4 (client side).
Occasionally, within the framework of geotechnical diagnostics, a G5 mission is carried out (specific studies on a particular element before construction or diagnosis following a geotechnical disorder or accident).
Preliminary geotechnical studies (G1 survey)
These studies are the first carried out on a study site and include two phases:
Site survey (G1 ES) when the project has not yet been defined.
General Construction Principles (G1 PGC) when the project outline has been established.
These studies make possible in particular to adapt the number of underground levels, the location of the buildings or the setting of the different levels foreseen according to the geological, geotechnical and hydrogeological conditions of the site. They also determine the major geotechnical risks and determine the technical and economic feasibility of a project.
Colonne
Geotechnical design studies (G2 survey)
These missions take place prior to a project (AVP) and during the project (PRO) phases and include 3 distinct phases:
Pre-project phase (G2 AVP) to compare the different possible solutions for the project.
Project phase (G2 PRO) to design and justify the selected project.
DCE / ACT phase (G2 DCE / ACT) to consult the companies on the basic project and assist the client in the choice of the construction company and any potential construction options. The first two phases lead to a well-defined project, safe construction methods adapted to the identified geotechnical context, from which companies will be able to establish optimized offers.
The DCE / ACT phase makes it possible to finalize a construction contract with the selected companies, anticipating any difficulties that may arise during the execution of the works.
Project implementation studies (G3 and G4 surveys)
These studies take place during construction phases and comprise 2 phases:
Study phase (G3 mission) and Supervision phase (G4 mission) during detailed phases studies of the works allowing to specify the methods of execution, the detailed design and the execution details of the various tasks.
Monitoring phase (G3 Monitoring) and Supervision of monitoring (G4 Monitoring) during the execution of geotechnical works to ensure a follow-up of the construction of the works according to the reality of the subsoil detected or observed during the work. These missions allow to adapt and adjust the tasks carried out, depending on the actual geological and geotechnical context encountered, both in terms of deadlines and costs.
Geotechnical diagnostics (G5 survey)
This mission is carried out on a structure or part of a structure, existing or to be built, in order to determine the influence of one or more geotechnical issues. It is carried out in particular in the context of buildings visible disorders in order to determine whether or not these disorders may have a geotechnical origin.
Colonne
Colonne
In-situ geotechnical surveys
Geotechnical engineering missions require deep knowledge of the geological, geotechnical and hydrogeological context. It is therefore essential to have reliable and exhaustive information on the nature and characteristics of the subsoil and the surrounding structures.
Most engineering missions are therefore accompanied by in-situ geotechnical investigations that Géotec is able to carry out with its own resources, both human and material.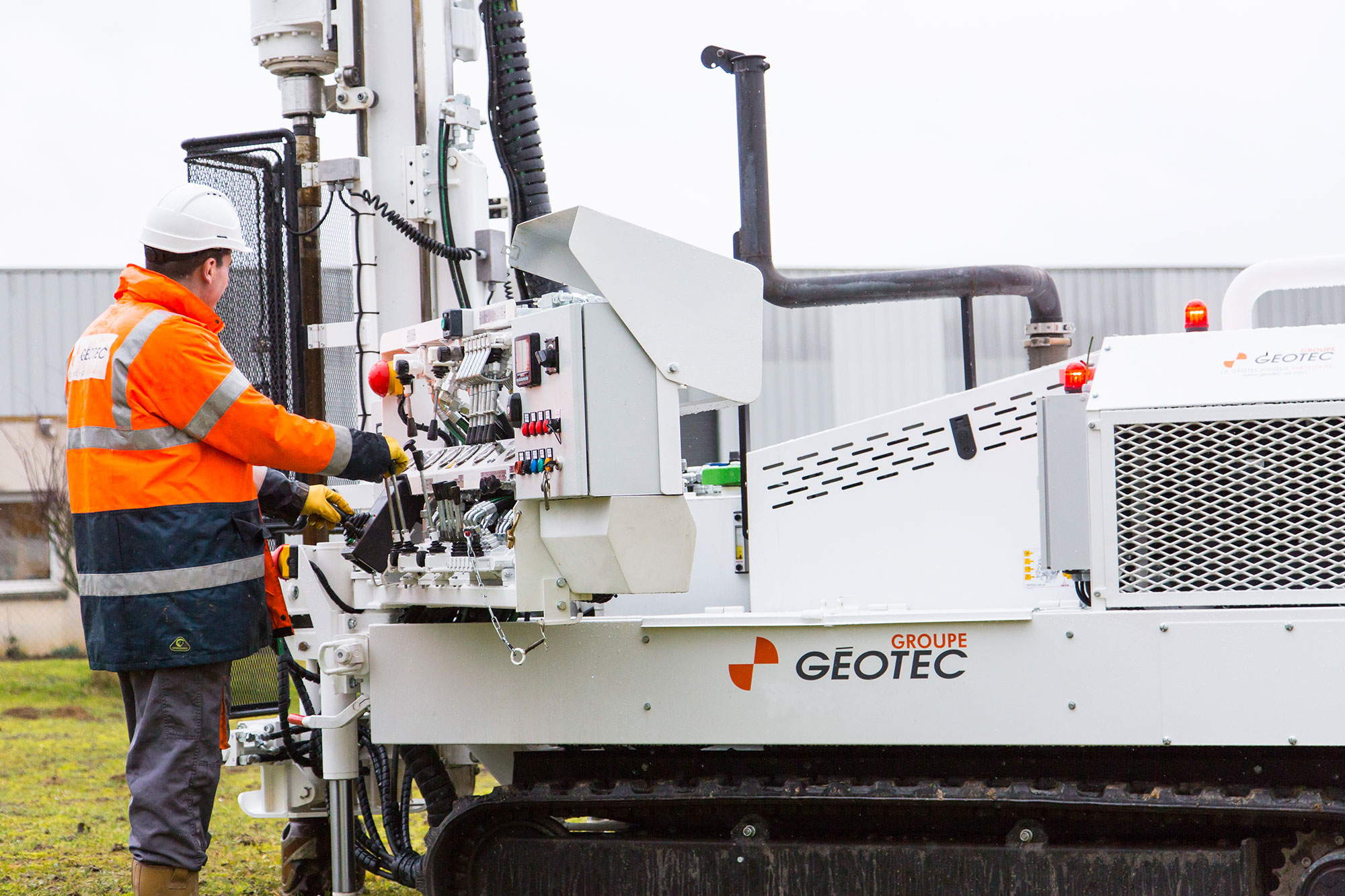 Colonne
The following investigations can be carried out to depths below ground that may exceed 100 m, in different environments (outdoors, indoors, on embankments, on roads, in an aquatic environment, ...):
Borehole surveys with collection of undisturbed samples.
Pressuremeter drilling with MENARD pressuremeter tests, cyclic or conventional, carried out up to 10 MPa, or even 20 MPa.
Augering drilling with disturbed samples.
Surveys with a trial pits
Destructive drillings with recording of drilling parameters.
Soil testing with static penetrometer with a mechanical or electrical point (CPT), with measurement of the pore pressure (piezocone CPTU), dissipation testing, seismic cones, etc.
Dynamic penetrometer sounding. SPT
Phicometer, in situ shear strength tests.
Lefranc, Nasberg, Lugeon, Slugtest geohydraulic tests, pumping tests.
Installation of various monitoring tools (piezometers, inclinometers, profilometers, CPI, measures of settlement,)
In order to offer the most suitable site investigation, Géotec has been designing and manufacturing its own tools of site investigation for more than 25 years (probes, pressuremeters, parameter recorders, etc.).
Géotec is the first company in France to be able to record all the data collected during geotechnical site investigations on digital tablets, directly on site and accessible by the geotechnical project managers in real time from our agencies (drilling logs, tests, records of drilling parameters, location, pictures of samples, etc.).
Colonne
Colonne
Laboratory testings
In order to complete the knowledge of the geological and geotechnical context, the samples taken in-situ during the investigations are then analyzed in one of our 12 testing laboratories (based in France, Belgium and West Africa), in order to carry out different types of tests, and in particular:
Soil identification tests (particle size distribution, hydrometer, Atterberg limits, MBI, water content, etc.).
Mechanical characterization tests (triaxial tests, shear tests, oedometer test, etc.).
Mechanical tests on rocks and concrete (Los Angeles, Micro Deval, Rc, modulus measurements, tensile tests,…).
Road tests (GTR, Proctor tests, CBR,…). These tests make it possible to determine with precision the nature of each sample but also the associated physical and mechanical characteristics, parameters essential for a relevant modeling of the subsoil.
Download French laborary's brochure (French version)
Colonne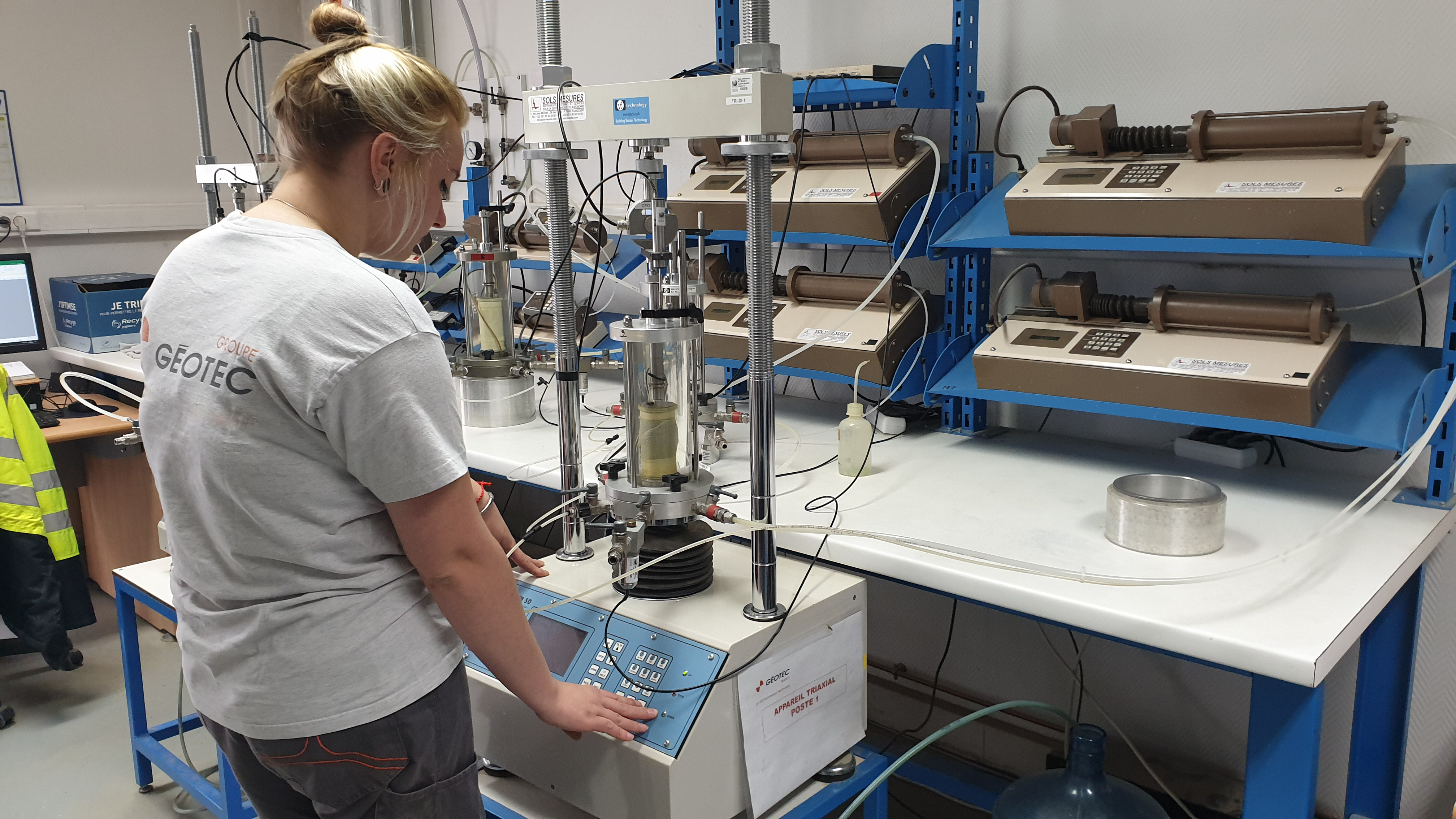 Colonne
Colonne
MateriAl resources
150 drilling spreads
The drilling spreads are available throughout France, Belgium and West Africa and use a large range of rigs, mainly designed and manufactured by Géotec, including in particular:
2 hydraulic drilling rigs GEO601 and 602 from Comacchio for very deep coring up to 300 m.
25 Geotec TB350 hydraulic probes for drilling up to 120 m, in rotation or rotopercussion.
25 Geotec-brand TB225 hydraulic drilling rigs for drilling up to 80 m.
35 Geotec brand TB175 hydraulic drilling rigs for pressuremeter and destructive drilling up to 60 m, with variable track and very limited footprint, allowing movement in width of 80 cm.
20 Geotec brand TB50 probes, for auger type boreholes and dynamic penetrometer.
4 removable thermal and electric probes, from Géotec or EMCI brands for difficult access or limited heights.
20 light dynamic penetrometers from Pagani or Geodeepdrill.
15 heavy static penetrometers from 5 to 20 tons, on crawler, truck or track-truck type. Each drilling workshop is equipped with a drilling parameter recorder, permanently connected with our agencies and allowing real-time monitoring of ongoing investigations.
All the rigs are also equipped with a digital tablet allowing the entry of all the useful information and real-time monitoring. 
Colonne
The workshops are supplemented by a wide range of in-situ measuring devices, and in particular:
75 Ménard type pressuremeter devices, digitally recorded.
150 probes for automatic measurement of piezometric levels.
2 in situ shear strength measures devices.
4 SPT devices.
8 benches for "Lugeon" tests.
1 phicometric device.
25 underground network detectors.
Mixers and injection pumps for grout and mortar.
Measuring devices for pore pressure cells (CPI), settlements measures, profilometers, inclinometers, parallel microseismic tests.
Metal platforms for difficult or corbelled access.
These resources make it possible to carry out all the investigations necessary for geotechnical studies, but also in the context of research into materials (mines, quarries, etc.), and in particular:
Boreholes surveys.
Ménard pressuremeter surveys.
Destructive soundings with recording of drilling parameters.
Auger reconnaissance surveys.
Drilling for installation of instrumentation (piezometer, inclinometer, CPI, etc.).
Drilling for carrying out specific testing or logs (Cross-hole, down-hole, natural radioactivity, endoscopy,…).
Dynamic penetrometers type A or B.
Static penetrometers (CPT).
Surveys with SPT tests.
Colonne
Colonne
12 testing laboratories
The 4 Geotec France laboratories have specific equipment :
50 odometer frames.
10 triaxial presses, 30 cells, 60 pressure volume controllers.
13 automatic devices with acquisition for rectilinear shear tests.
3 equipments for evaluation of the aptitude for treatment.
6 workshops for Proctor tests and soil treatment.
Colonne
1 apparatus for LA and Micro Deval tests.
1 press for simple compressive strength with Poisson's ratio and Young's modulus measurements (500 kN).
2 automated concrete presses (2000 kN).
5 electric CBR presses.
6 universal presses.
3 mixers.
14 complete series of sieves (EN and BS).
17 complete devices for Atterberg limits.
Colonne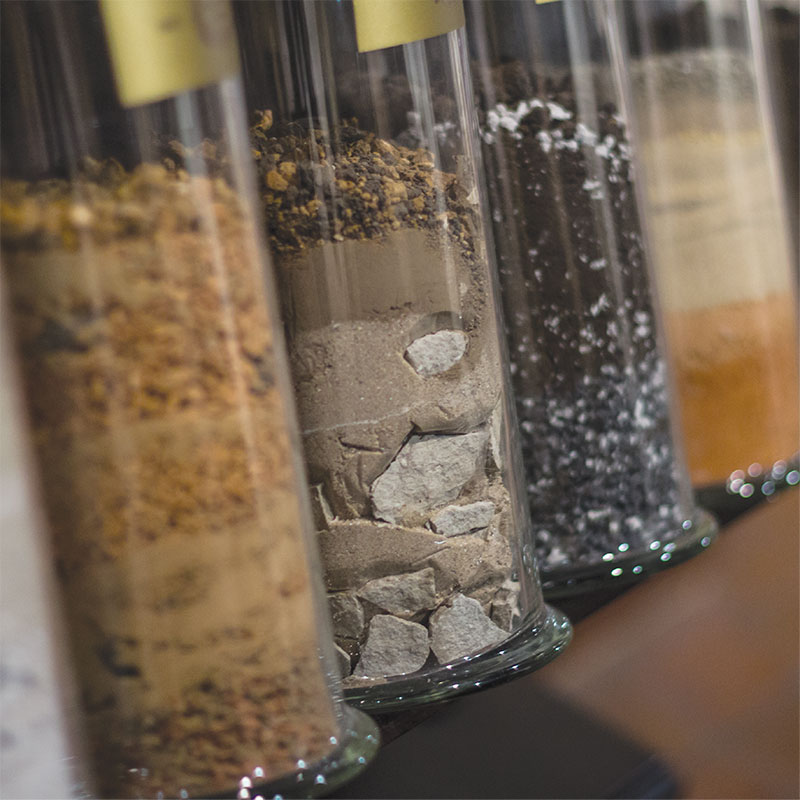 Colonne
Colonne
Softwares
In order to accurately analyze the data available from in-situ and laboratory investigations and to design the most optimized structures, Géotec has acquired a set of software, some of which have been developed by its engineers for exclusive use.
Data processing:
GEOLOG.
EXPRS/EXGTE.
GEOINFO.
Statistical processing of pressiometric data and static penetrometer (internal).
CLIQ.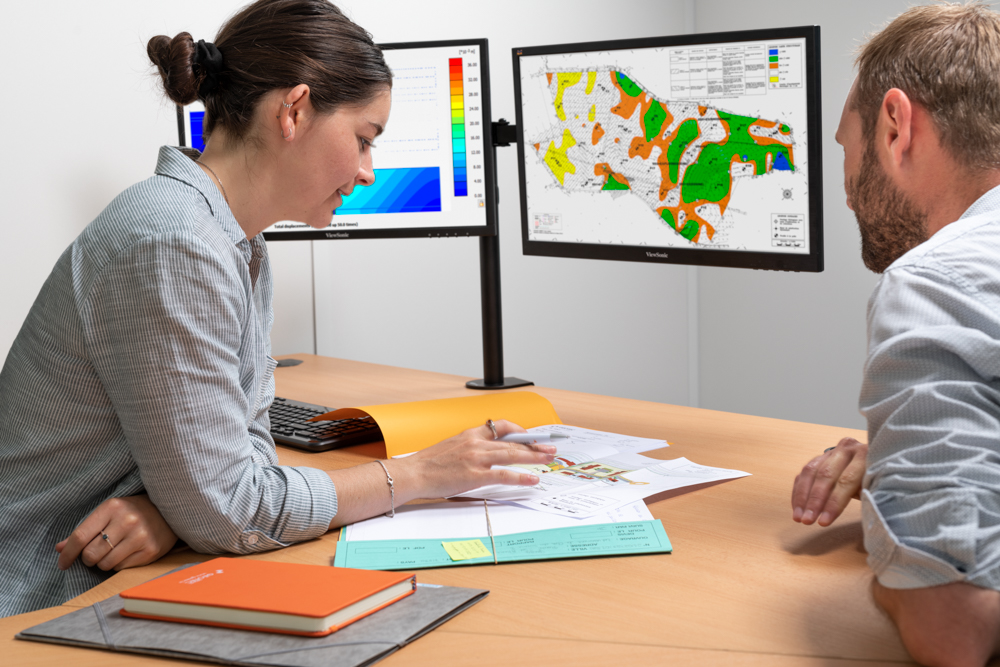 Colonne
Hydrogeology
Graphical presentation of data
GDM.
AUTOCAD.
GEO MENSURA.
SURFER.
MAPINFO.
ARCGIS.
QGIS.
Geotechnical calculation software
GEOMUR.
GEOFOND.
GEOSPAR.
FOXTA.
TALREN.
KREA / RIDO.
PLAXIS 2D et 3D.
PLAXFLOW 2D et 3D.
Hydraulic validations for deep excavations (internal).
Justification of struts, foundations of struts (internal).
Colonne
Rock mechanics/rock face stability
LITHO.3D.
3D.TRAJ.
ROCKYFOR 3D.
PRODIGE 3.1.
PHOTOSCAN PRO.
CLOUD COMPARE.
Structural calculation software
ALIZE ROUTES.
BAEL C.
GALA.
validation of the piles (internal).
Validation of the RTE pylons (internal).
Validation of massive wind turbines on rigid inclusions (internal).
Colonne
Colonne
Human resources
With more than 800 employees, the human resources are divided according to the activity areas:
320 drillers, sounders assistants, technicians and work supervisors participating in the daily realization of thousands of meters of soundings and in-situ tests.
50 laboratory technicians.
300 engineers designing hundreds of structures daily.
A Technical and Scientific Department made up of 10 members and an R&D Department made up of 3 permanent staff allow Géotec to be at the forefront of geotechnical studies both in France and abroad.