Texte
Colonne
Colonne
The prevention of natural hazards is an increasingly complex challenge today within our societies due to climatic changes impacts and urban expansion.
This issue requires multidisciplinary approaches that must always be based on field expertise in order to analyse the phenomena and understand the challenges.
Géotec's Natural Hazards Department is a transversal department that operates throughout the territory covered by the group and its subsidiaries.
Its operations concern all natural hazards and phenomena of geological origin: rockfalls and rockslides, landslides, subsidence/collapse linked to the presence of underground cavities, coastal erosion, etc.
Colonne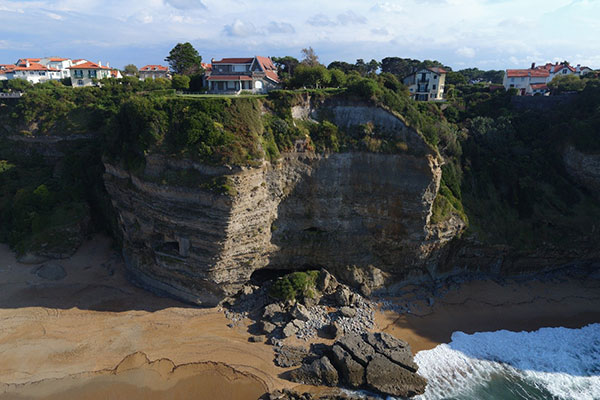 Colonne
Colonne
MISSIONS
Its services cover, in particular, the following surveys:
Expertise and mapping of geological hazards
Approaches to prevent natural hazards are very often based on the diagnosis of a territory accompanied by the mapping of natural phenomena, which must provide valid and exhaustive tool to help decision-making. Our Natural Hazards Department handles all aspects of these procedures, both technically and legally, by offering:
Historical surveys, photo-interpretation of old shots (diachronic approach).
Preparation of plans of Natural Risk Prevention for Land Movement.
Expertise at the municipal level within the framework of the creation of PLUs (Local Urbanization Plans).
Large-scale geological studies to identify and qualify natural harzards and/or hazards from human activity (mining hazard).
Modelling and mapping of harmful natural phenomena at all scales: road routes, plots, housing estates, photovoltaic power plants, etc.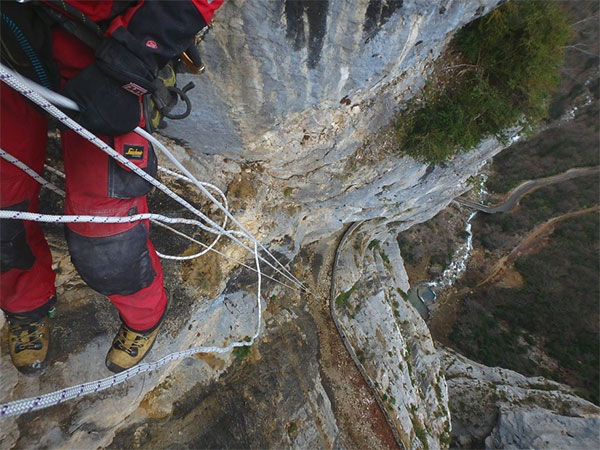 Diagnosis of cliffs, rock faces, landslides and cavities
Depending on the challenges and the complexity of the site, Géotec's expert engineers can implement means adapted to all situations:
Rope access cliff inspection, in tunnels.
Geological, geomorphological survey.
Diagnosis of cavities, cave-ins
Geotechnical surveys by sampling and tests.
Terrestrial and aerial photogrammetric surveys (drone).
Structural analysis.
3D modelling of rock faces.
2D, 3D trajectography.
Colonne
Stability analysis
Beyond simple diagnostics, the Natural Hazards Department has the expertise and the necessary calculation resources to assess the stability of natural or man-made sites:
Stability of boulders and dihedrals.
Geomechanical stability of quarry pits.
Slope stability.
Retrograde analysis of a landslide.
Stability of abandoned underground mines and quarries (semi-analytical methods).
The design and sizing of protection devices
The service can also provide its expertise for all development work to reduce hazards and the monitoring of safety projects, including:
The design of safety devices (active, passive, prevention, etc.).
The design of passive anchors, protective mesh and nets.
The design of rockfall barriers.
The design of auscultation devices (survey, instrumentation, etc.).
Vulnerability assessment (cost/benefit analysis).
Project management of protection works
The Natural Hazards Department performs all or part of the project management surveys:
Design of pre-project and project study levels.
Support for awarding works contracts (ACT) and compliance control (VISA) phases.
Works monitoring.
Verification files
Its main customers are local authorities, road and rail infrastructure operators, mine and quarry operators, special works companies, energy producers and suppliers (photovoltaic, hydroelectric, etc.).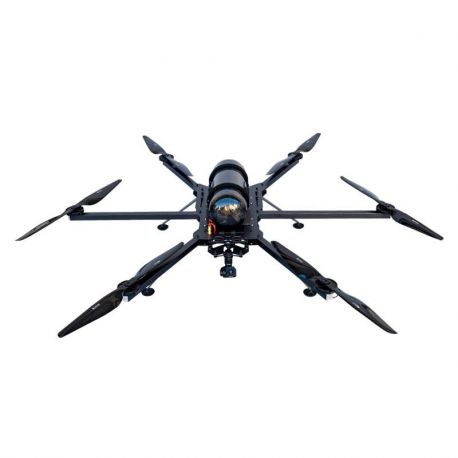 Colonne
Colonne
MATERIAL RESOURCES
This department has specific resources to facilitate fieldwork and in particular enable the digital modelling and sizing of structures.
Geomatics (GIS)
Georeferencing, orthorectification.
Cartography.
Creation and use of DEMs.
2D, 3D interpolation of geological data.
Photogrammetry
Hexacopter drone with HD camera and GPS.
Calibrated fixed focal length reflex cameras.
Photogrammetric reproduction (PhotoScan).
Creation of 3D photomodels.
Colonne
Lasergrammetry
Point cloud analysis.
3D mesh and texturing.
Calculations of profiles, surfaces, volumes.
2D and 3D trajectography
Deterministic and probabilistic methods: 3DTraj, Rockyfor 3D.
Equipment for cliff operations
PPE, harness, ropes, fall arrester, chest ascender, handle, descender, lanyards, carabiners ...
Instruments to record the position and characteristics of instabilities: digital camera, laser rangefinder, Chaix universal compass, GPS, decameter, odometer, etc.
The department also has a drone equipped with photogrammetry to ensure the best possible services and as quickly as possible.
Colonne
Colonne
HUMAN RESOURCES
The Natural Hazards Department is made up of expert engineers and business engineers who work full time for the department and who have climber and vertical work qualifications. It also uses a network of engineers and technicians specially trained in this expertise and available in France and internationally.

Contact : contact.risquesnaturels@geotec.fr